114 Fellows complete advanced cooperation cours...
Strengthening their ability to analyze regional security challenges and cooperate on identifying solutions, 114 Fellows from 42 locations completed the Advanced Security Cooperation course (ASC 15-2) today at the Daniel K. Inouye Asia-Pacific Center for Security Studies.
The five-week course is an executive education program enabling mid-level military and civilian leaders to deepen their understanding of security issues within political, socio-economic, defense and environmental contexts. The course's primary intent, according to course manager Dr. Christopher Snedden, is to connect Fellows in a way that helps them collaborate on complex regional security challenges.
"We want Fellows to come to an understanding of different perceptions, different ways of looking at an issue and move to resolve the associated interrelational dynamics," said Snedden, adding, "We want them to look at issues from other points of view and move toward identifying and resolving challenges collaboratively."
ASC 15-2 Fellows learned through a combination of 22 plenary topical discussions, 4 elective sessions, and several group interaction seminars. They also took part in exercises that capped of each of four curriculum modules. These exercises enabled Fellows to leverage newly gained knowledge and skills in an application and cooperation activity. Each exercise built upon the previous one culminating in an Oct. 27 negotiations challenge that served as the course's capstone event.
"The Cooperative Future" exercise on Oct. 22 teamed Fellows with diverse language, cultural, educational and socio-political backgrounds into nine groups. Each group's mission was to work through their myriad differences and to come to an agreement on what they believed is the Asia-Pacific's foremost major security concern that offers the best opportunity for regional security cooperation. After analyzing the region's security environment, they identified an issue and developed feasible next steps to resolve it.
Chinese Fellow Qinyan Zhou's noted that the process of identifying a single issue was complicated due to what are often nation-specific perspectives of each group member. "For example, Zhou related, Oceania people, they were concerned about climate change, because they are very much facing that challenge. For developing countries, like China, we're more concerned about the development issue." Zhou serves with the China Maritime Safety Administration.
Her group eventually settled on the issue of unequal development, something she related may contribute to a host of security problems. In a brief to their ASC peers and course faculty, Zhou's team outlined contributing factors, such as poor governance and uneven distribution of resources, and then offered an action plan and strategic options to address these factors.
The ASC curriculum prepares Zhou and other Fellows for such exercises through courses that equip them with the latest information on the Asia-Pacific's various sub-regions and on key topics, such as terrorism, economics and maritime security. There are also sessions that help participants sharpen their problem-solving skills. In "Strategy Development for Complex Adaptive Systems," Professor Herman Finley explains how a majority of problems form in complex systems and addresses how to manage the system, not the problem. He advises Fellows to solve problems by shaping systems to their advantage through analysis, communication and development of goals and executable strategies.
Zhou praised the course's results-oriented curriculum. "The experience was excellent. They (faculty) taught us how to frame problems and how to cooperate and communicate. This is so important for us; I feel my capability to manage complex issues has improved very much."
ASC is one of six formal courses at DKI APCSS. The center is a Department of Defense institute that addresses regional and global security issues. Military and civilian representatives, most from the United States and Asia-Pacific nations, participate in a comprehensive program of executive education, professional exchanges and outreach events, both in Hawaii and throughout the Asia-Pacific region.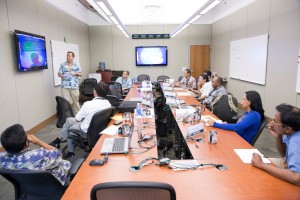 The Center supports U.S. Pacific Command by developing and sustaining relationships among security practitioners and national security establishments throughout the region. DKI APCSS' mission is to build capacities and communities of interest by educating, connecting and empowering security practitioners to advance Asia-Pacific security. It is one of the Department of Defense's five regional security studies centers.
Since opening in 1995, more than 9,500 alumni representing over 122 countries and territories have attended DKI APCSS courses and workshops.
-END-