DKI APCSS surpasses 10,000 milestone for number...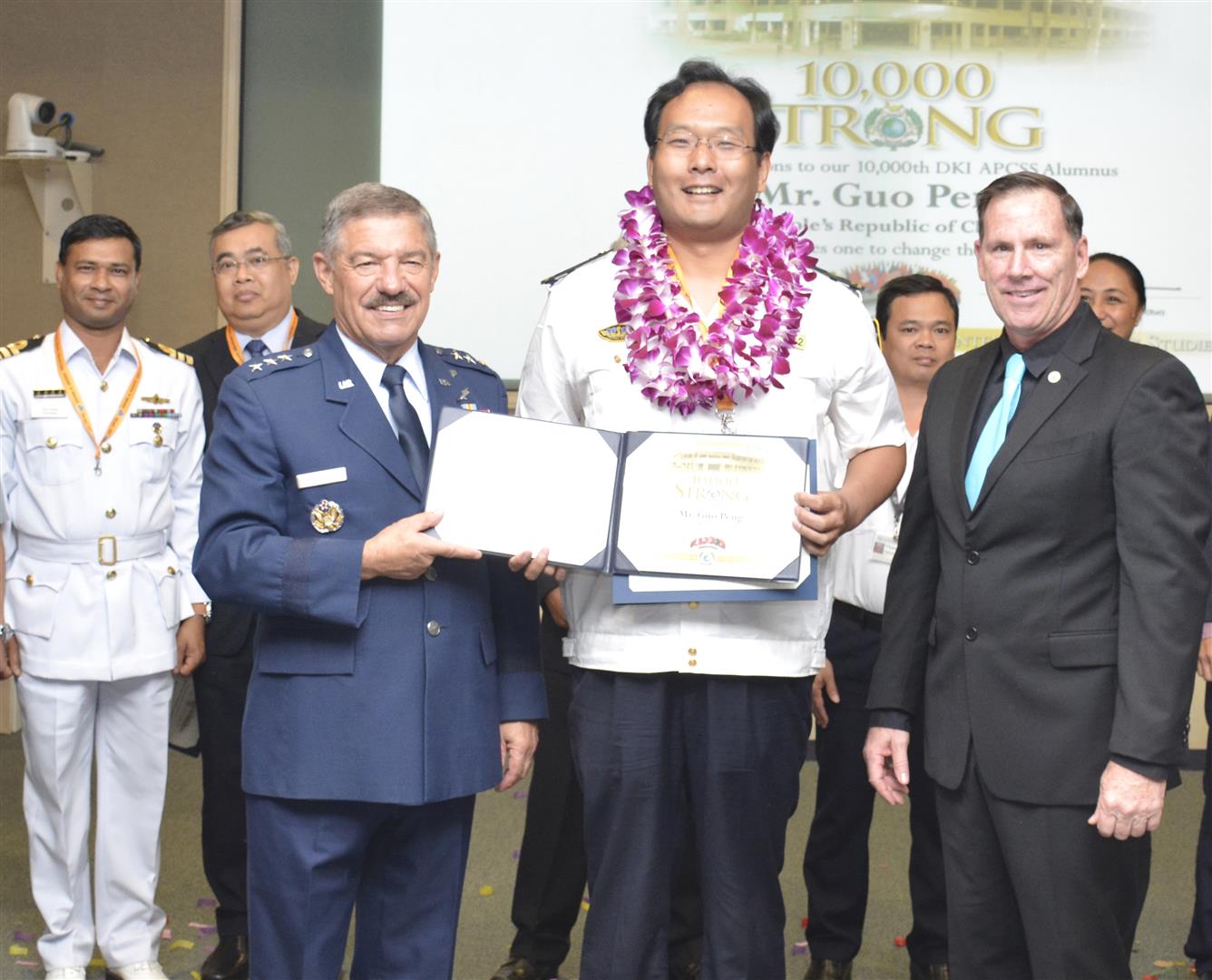 Since 1995, the Daniel K. Inouye Asia-Pacific Center for Security Studies has provided an executive security education to thousands of Fellows from more than 60 nations worldwide. The Center reached the 10,000 alumni mark Wednesday upon completion of the Comprehensive Crisis Management course (CCM 16-1).
One hundred twenty Fellows from 38 locations attended the Feb. 11 to March 16 CCM, bringing the Center's total alumni count to 10,024. The Center identified Guo Peng, with China's Maritime Safety Administration, as the 10,000th.
"We're proud to have reached this point in just over 20 years…to think about it, it shows we're a pretty busy place," said DKI APCSS Director Lt. Gen. (Ret) Dan Leaf. With a staff of roughly 100 faculty members and support staff, the Center conducts an average of nine in-resident courses annually at its Honolulu facility — some lasting nearly five weeks — as well as mobile orientation courses, workshops and outreach events throughout the Asia-Pacific region.
The school equips the region's security practitioners with the problem-solving and leadership tools needed to affect positive change in fields such as maritime security, inclusion, security sector development, and humanitarian assistance and disaster recovery. Fellows build connections with their international peers while enhancing their ability to solve complex problems through collaboration and critical thinking. The thousands of DKI APCSS alumni have had a significant positive impact on the region and the world, according to Leaf.
"Our 10,000 alumni didn't just go back to their countries better educated, they went back with important skills and knowledge, the 'spirit of aloha,' and a sense of their ability to make things better; multiply that by 10,000 — it's a wonderful thing. When they complete a course here, it's not the end…it's the beginning of their journey to apply, to teach, to change the world with what they've learned here at DKI APCSS."
The Center is a Department of Defense institute that addresses regional and global security issues. Military and civilian representatives, most from the United States and Asia-Pacific nations, participate in a comprehensive program of executive education, professional exchanges and outreach events, both in Hawaii and throughout the Asia-Pacific region.
DKI APCSS supports U.S. Pacific Command by developing and sustaining relationships among security practitioners and national security establishments throughout the region. APCSS' mission is to build capacities and communities of interest by educating, connecting and empowering security practitioners to advance Asia-Pacific security. It is one of the Department of Defense's five regional security studies centers.