International Fellows improve risk reduction an...
International Fellows improve risk reduction and crisis collaboration in APCSS course
Effective response to a disaster or crisis is often a race against time. In the effort to save lives, governments and other agencies must work quickly to deliver medical aid, food and shelter to affected populations. Success in such efforts can hinge heavily on the quality of coordination and cooperation across a wide spectrum of responding organizations.
The Asia-Pacific Center for Security Studies tasked 114 international Fellows to hone their skills in this arena by tackling a simulated crisis exercise — focused on a pandemic — as part of the July 23 to Aug 25 Comprehensive Crisis Management course (CCM 15-1). The fellows, hailing from 42 locations, completed the two-day capstone exercise prior to their Wednesday course commencement.
CCM is an executive education program designed to educate and build resilient capacity among security practitioners for crisis preparation, response and recovery. It helps participants develop a comprehensive understanding of crisis and disaster management with a focus on the strategic impacts of decisions and actions before, during and after events.
"Often in disaster/crisis situations, you have to go beyond your ministry or agency to work with others," said CCM manager Dr. Jessica Ear. "With 'Katrina,' for example, there were countless organizations and departments involved. One of the biggest challenges to coordination is not understanding the protocols and procedures of other involved entities."
Ear added the exercise highlighted key points covered in the prior weeks' curriculum with emphasis on building collaboration between agencies and organizations with often dissimilar culture, terminology and priorities.
The capstone scenario called for each of eight CCM seminar groups to act as a different government ministry in an underdeveloped, fictitious nation wracked by spread of a communicable disease. Each group analyzed available data, considered capabilities and challenges, then developed response proposals for the nation's prime minister. Eight task forces were then formed containing members from each of the eight ministries with an additional "Civil Society Consortium" group role-played by 17 participants from the State Department's International Visitor Leadership Program. Task forces, in turn, had to work through competing ministry priorities to develop and brief agreed-upon courses of action to national leadership. And, they only had two days to make it all work.
"The time constraint is very real," said Ear. "We gave them just enough time to discuss the issues, because in a crisis situation, there isn't time for a prolonged diplomatic standoff." She added that Fellows "highly felt" the time constraint, which moved them to negotiate past points of contention. "Often in disaster situations, you have the best opportunity to come together because you have a common end goal…meeting human needs."
The exercise enabled application of knowledge and understandings built through a series of topical plenary lectures, seminar discussions, exercises, on-island site visits, case studies analysis and electives. CCM facilitates this curriculum in five core modules, of which the capstone is the fifth. The other four are:
Crisis resiliency in a complex environment: this module explores the multidimensional nature of crises and factors that contribute to national resiliency to recover and rebuild.
Enhancing Crisis leader and Team Capabilities: Fellows develop personal skills needed to comprehensively analyze crises, assess potential outcomes, and lead and design strategies for effective crisis communication and information sharing.
Improving Crisis Coordination and Collaboration: this module focuses Fellows 'outward,' enhancing their ability to understand and work with other actors and their practices in crisis management.
Focused Knowledge Enhancement: faculty facilitate a deeper experience in skills- and knowledge-based learning. This block included visits to the Hawaii Emergency Management Agency, National Oceanic and Atmospheric Administration and its Pacific Tsunami Warning Center, and the local U.S. Coast Guard unit.
"The approach taken by APCSS to adult learning is wonderful," said Maj. Garth Andersen, a Fellow from the Jamaica Defense Force. "It affords a very balanced experience of theory mixed with practical knowledge. The overall experience was great…I don't think I could have spent it in a better learning experience or around a better group of people."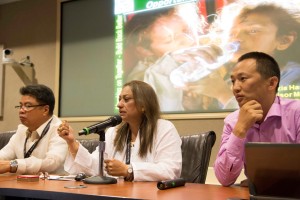 Shazia Haris (middle), a media advisor with Pakistan's Earthquake Reconstruction and Rehabilitation Authority, discusses her Fellows Project as part of a lessons learned panel during the July 23 to Aug. 25 Comprehensive Crisis Management course (CCM 15-1). Joining Haris on the panel were Fellows Dr. Amarsanaa Jazag (right), city council member in Ulaanbaatar, Mongolia,and Edgardo Esperancilla, regional director, Philippines Department of Science and Technology.
Andersen is Jamaica's first APCSS Fellow. As part of his Fellows Project, he said he will strive to build understanding on concepts of civilian-military cooperation and crisis resiliency at the community level. CCM culminates in participants accomplishing Fellows Projects, which are individual projects intended to effect positive crisis management improvements within their organizations or country.
Joining Andersen were Argentina's and Paraguay's first-ever APCSS Fellows. Other participants hailed from Afghanistan, Argentina, Australia, Bangladesh, Brazil, Cambodia, Chile, China, Colombia, Cook Islands, Dominican Republic, Fiji Islands, India and Indonesia. Fellows also came from Japan, Kiribati, Laos, Malaysia, Maldives, Marshall Islands, Micronesia, Mongolia, Myanmar, Nepal, Pakistan, Palau, Palestine, Papua New Guinea, Philippines, Romania and Samoa. Also taking part were Fellows from South Korea, Sri Lanka, Taiwan, Thailand, Timor Leste, Tonga, United States and Vietnam. The course demographic was complimented by four Fellows representing the United Nations Office for the Coordination of Humanitarian Affairs, the United Nations Development Program, the World Bank and the Japan International Cooperation Agency.
CCM is one of six formal courses at APCSS. The center is a Department of Defense institute that addresses regional and global security issues. Military and civilian representatives, most from the United States and Asia-Pacific nations, participate in a comprehensive program of executive education, professional exchanges and outreach events, both in Hawaii and throughout the Asia-Pacific region.
The Center supports U.S. Pacific Command by developing and sustaining relationships among security practitioners and national security establishments throughout the region. APCSS' mission is to build capacities and communities of interest by educating, connecting and empowering security practitioners to advance Asia-Pacific security. It is one of the Department of Defense's five regional security studies centers.
Since opening in 1995, more than 9,500 alumni representing over 122 countries and territories have attended APCSS courses and workshops.
-END-
More photos available on Facebook at: