New Currents Magazine Now Online!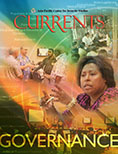 The latest issue of Currents magazine is now online! It covers APCSS & alumni events from April through December 2013. (Sorry for the long delay!)  You can download the whole document or just sections of it depending on your bandwidth.
In this issue we focus on Effective Governance. Read about Security Sector Development in a special article by Dr. Rouben Azizian. Dr. Al Oehlers also contributed an Op/Ed on reform in Myanmar.
Catch up with old friends and don't forget to share your latest news with the Alumni Team...We're already working on the Fall issue! 
Spring 2014
Full Version for download (2.41 mb)
Download by sections: